Living Lab Koper makes the port of Koper in Slovenia an innovation hub for 5G technologies.
The development of novel Industry 4.0 technologies and cutting-edge prototypes is supported by five partners: Luka Koper, Internet Institute LTD, Telekom Slovenije, Vicomtech and Continental. Applications and services integrating 5G technologies include use cases related to port control, logistics, remote automation and port security.
Cloud-native and MEC driven infrastructures, MANO-based services and network orchestration, industrial IoT, vehicle telemetry, AI/ML based video analytics, drone-based security monitoring etc. are just few of the innovative solutions that are developed in the Living Lab. These technologies are operated in a real port environment with the support of highly advanced port logistic services that can significantly benefit from the deployment of 5G. In parallel, the highly demanding port logistic operation scenarios are based on hybrid private-public 5G network operations. As a consequence, it increases the operativity of novel features such as eMBB, mMTC and URLLC services, network slicing, NFVI and multi-IaaS scenarios.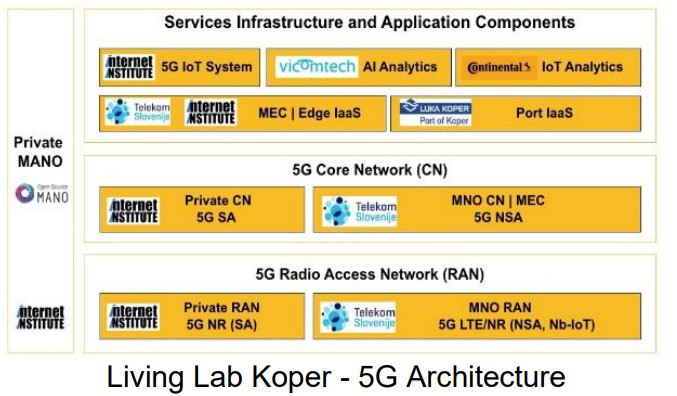 Have a deeper insight of how 5G-LOGINNOV implements these innovative technologies in the Luka Koper Living Lab, downloading here the dedicated leaflet and visiting the dedicated webpage!