Finally we reach the port of Hamburg, the Hanseatic city which hosted the ITS World Congress 2021.
The city of Hamburg is ranked No.3 in Europe, with around 10 million containers entering its city-port. Due to its peculiar location and geographical distribution several terminals for container handling are spread across different parts of the city. As a consequence, it is extremely important to individuate alternatives to increase the capacity of the existing road network. As a matter of fact, Hamburg's competitiveness relies on an efficient hand-over and automation within the intermodal transport chain and these aspects also emerge in the city's ITS Policy Strategy 2030. Innovative traffic solutions will be eventually supported by a consistent digital transformation, in order to increase traffic security and steady traffic flow. Considering this framework, the implementation of 5G use cases fully supports the main pillars of the ITS policy objectives. In parallel, the environmental pressure is another driver for innovation for the two-million city. The recently-introduced diesel ban and air pollution caused by trucks build a solid basis in favour of the implementation of sustainable traffic management strategies based on 5G technologies in the City. 
Hamburg Living Lab's goal is not only to demonstrate the potential of leveraging positive environmental impact by using 5G for intelligent traffic management. But also, it entails the implementation of a methodology to capture the effect of the traffic infrastructure on regional emissions, thus making them comparable by quantifying relevant factors (driver profile, vehicle profile, loading, etc.). T-Systems, in collaboration with Swarco, Continental and Tec4U, is addressing these challenges implementing the project's features through a cloud-based Virtual Traffic Management Centre (see picture).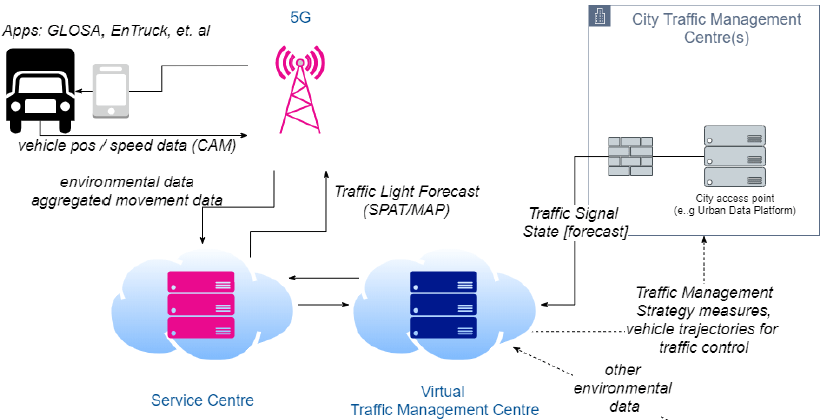 Learn more about the 5G ecosystem in the port of Hamburg downloading here the dedicated leaflet and visiting the dedicated webpage!