5G-LOGINNOV is ready for the official beginning of the ITS World Congress 2021 in Hamburg!
The Hamburg Messe is centrally located in the Hanseatic city and linked to the Congress Center Hamburg (CCH). Through dedicates sessions already mentioned here, the 5G-LOGINNOV project is presented at the ITS World Congress with a dedicated booth at the ERTICO-ITS EUROPE stand.
You can find 5G-LOGINNOV booth in the hall B5, place 135, Desk 1, perfectly located between exhibition hall B6 and B4. As soon as you enter the ERTICO – ITS EUROPE stand you will find a customised screen (pic. 1-2) with updated information regarding the latest achievements of the 5G-LOGINNOV project.
(Pic. 1)
          (Pic. 2)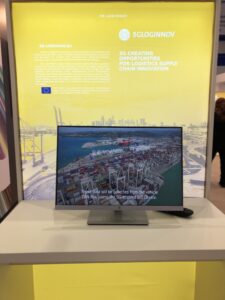 Counting over 13.000 registered visitors, the ITS World Congress is an opportunity to present 5G-LOGINNOV project to an international community and allow partners from across the sector to test its applicability.
Come and visit the project's booth at the MESSE, B5 exhibition area to discover how 5G-LOGINNOV will ensure port areas and city-ports handling upcoming and future capacity, cope with traffic congestion and environmental challenges.