Moving East from Slovenia, we find Greece and its capital, Athens.
The Pireaus port represents a maritime junction point for transports, being among the 4 busiest European ports of 2020. Its strategic location makes it an ideal hub in the Central/Eastern Mediterranean and the Black sea.
The current local fleet size counts about 170 operational trucks per day and incoming external trucks, thus reflecting the significant challenges for the operations of the Living Lab. The mix of innovations in the Athens includes among others live tracking of 5G truck operations for optimal container job allocation and predictive maintenance services (see image below), port control, logistics and remote automation through far edge computing service orchestration.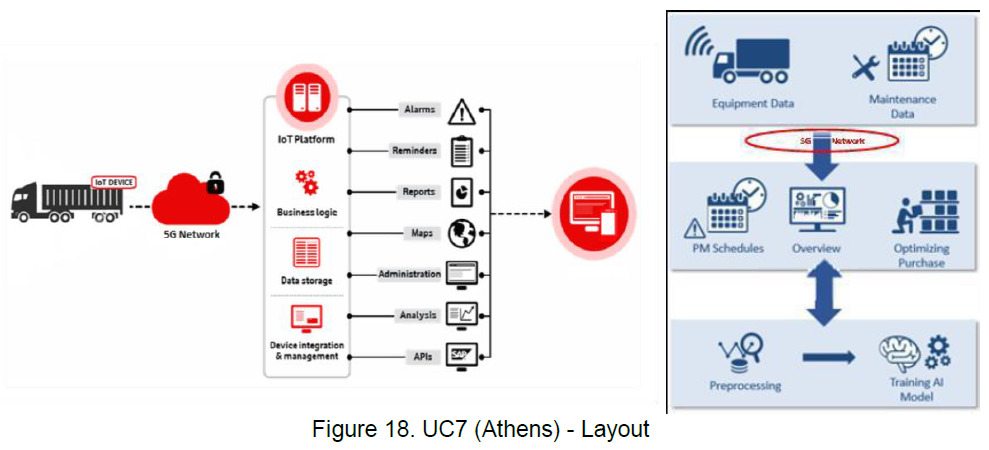 5GLOGINNOV will address several key aspects of day-to-day port operations at the Piraeus Container Terminal implementing 5G technologies aiming at:
Optimising port operations of Piraeus port through use cases

Reducing the cost of operations 

Reducing the environmental footprint of port operations 

Improving personnel and employee's safety
The continuous development of the port is supported by three partners: Piraeus Container Terminal (PCT), the Institute of Communication & Computer Systems (ICCS) and Vodafone which will facilitate the implementation of 5G technologies in port operations.
Learn more about the 5G ecosystem in the Piraeus port downloading here the dedicated leaflet and visiting the dedicated webpage!