Monday 30, May the ITS European Congress finally kicked off!
In Toulouse, 5G-LOGINNOV is present with a dedicated booth (pic.1 and 2) at the ERTICO stand (E11), where you can discover more in details the three Living Labs and their unique use cases.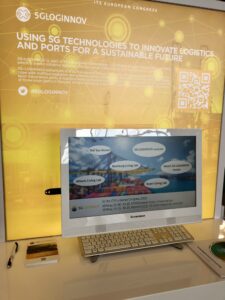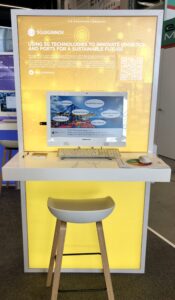 (Pic.1 and 2)
The first day of the Exhibition was a whirlwind of events and meetings and 5GLOGINNOV representatives were involved in one stand presentation in the morning and one Special Interest Sessions (SIS) in the afternoon.
In the morning, the project coordinator Dr Eusebiu Catana showcased 5GLOGINNOV features to the guests at the ERTICO stand. This networking opportunity was then followed by a SIS in the afternoon.
From 3:15PM to 4:15PM, in Room 4, Dr Catana moderated Session 9 titled "5G technologies for verticals". This session explored the various applications of 5G, with a focus on the logistics and automotive sectors and CAD. 5GMETA, 5G-LOGINNOV, 5G-MOBIX & SHOW will not only use data to stimulate and facilitate innovative products and services, whilst ensuring data privacy, security, interoperability and ownership, but also use new, innovative concepts, applications and devices supported by 5G technologies, IoT, data analytics, next generation traffic management and CCAM to reach the above-mentioned goals.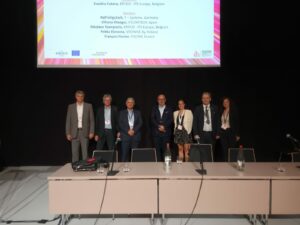 The speakers were (from left to right):
Francois Fischer, FSCOM, France
Pekka Eloranta, SITOWISE Oy, Finland
Nikolaos Tsampieris, ERTICO – ITS Europe, Belgium
Ralf Grigutsch, T – Systems, Germany
Oihana Otaegui, VICOMTECH, Estonia